Over the years, we had heard rumors about men who had surgery for chronic prostatitis and who fared well. However, good information was impossible to get. There was a 1982 study demonstrating some relief in some men with "radical" transurethral prostatectomy (TURP; an aggressive scraping of the prostate); to the best of our knowledge that study was not replicated and its symptom measures had not been well defined or validated.

We were unable to find publications on radical prostatectomy in men with chronic prostatitis. Moreover, we are seeing patients who have failed TURP and open [partial] prostatectomy as prostatitis surgical treatments, but who are getting relief from laparoscopic surgery (see below). Overall, we had been unable to find any scientific evidence to support partial, transurethral, laser, or any other form of prostate surgery as prostatitis treatments.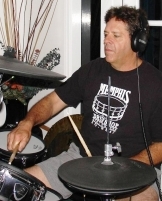 In 2007, David Radford, a 55-year old patient came to us with an eight-year history of severe chronic prostatitis. David was to become the first of what has become a growing group of patients who have been treated with laparoscopic prostatectomy. He had been referred for prostate removal by a fellow urological surgeon at the Cleveland Clinic because of our long experience with laparoscopic prostatectomy, about which you can read on http://laprp.com.

David  had pursued many non-surgical treatments with no success and was absolutely miserable, unable so much as to sit behind his set of drums. David had consulted some of the most respected academic institutions with no relief. He came to us with a seemingly simple request: To have a laparoscopic prostatectomy, a minimally invasive operation normally used to treat prostate cancer, to remove his prostate. This request, which was supported by his wife and referring physician, was seen by all of us as a last resort.

The surgical technique we used is known as laparoscopic radical prostatectomy, which we have been doing since 1999, when Dr. Krongrad, our medical director, introduced it into the United States. The risks of laparoscopic prostatectomy include cardiovascular complications such as blood clots and heart attack, conversion to open surgery, infection, infertility, injury to adjacent organs, impotence, incontinence, pain, scarring of the bladder neck, bleeding, pain, and persistence, recurrence, and/or worsening of symptoms. The risks for specific individuals vary as functions of many variables, including age, overall health, smoking history, obesity, and the like.

In our hands, laparoscopic prostatectomy surgical service is associated with minimal bleeding; we have not transfused a patient in 10 years. It is associated with minimal pain; on average our patients take 2 Tylenols in the first 24 hours. In our hands, patients have a fast recovery. We will be pleased to answer any questions that you have about laparoscopic prostatectomy and to help you assess the risks in your individual situation.

After a long discussion about conventional treatment options, the absence of scientific data regarding the therapeutic effect of prostate removal, and the risks of surgery, we went ahead. David got an immediate, complete, and durable relief of his chronic prostatitis symptoms. He has had no ill effects from surgery: His urinary control was immediate (actually, his urinary function improved), his erections have returned, and he is fnally able to sit without a donut cushion. You can watch his recorded interview on the Home Page. Since David's surgery, laparoscopic prostatectomy has provided relief to other men with severe, chronic prostatitis symptoms. You can read some of their stories on the Testimonials pages linked above.
In parallel with the narrative self reports from our patients, we are prospectively collecting standardized symptom measurements as part of an ongoing clinical trial. These data show scientifically what the patients are saying in plain language: Laparoscopic prostatectomy is associated with symptom relief.

This work is presented in scientific format in this article. In brief, this initial report tracked the first 6 consecutive trial enrolees for a year after surgery. Their preoperative symptom index score was 35 (range 0-43) and at one year it was 7.5, which was statistically significant. The figure illustrates the change in symptom score over that year of followup.

As reviewed in the article, there does not appear to be any treatment for severe, chronic prostatitis with the potential to so profoundly reduce symptoms. For this reason, we are expanding the trial with an eye to providing tomorrow's patients with a scientific and quantitative basis for their decisions.